Web Administration
Rebex Buru SFTP server web admin allows you to manage the server using web browser. Manage services, virtual paths, users. View logs. Edit configuration.
Rebex Buru SFTP Server includes optional Web Administration (WA) tool, by default accessible at http://localhost:8880.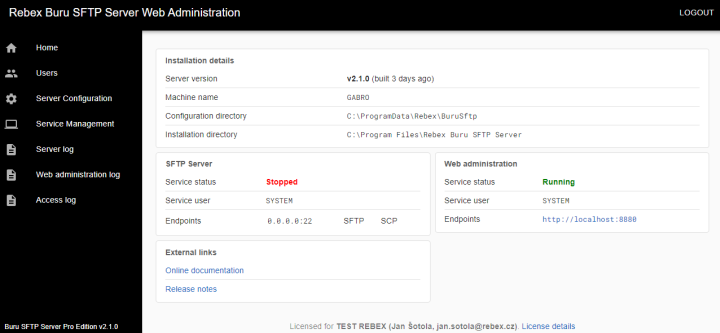 It includes:
managing users
managing virtual paths
managing SFTP server service
viewing log files
viewing and modifying server configuration
applying the license
The administration can be either run manually (see burusftpwa run) or installed as a service (burusftp install). When started the tool can be accessed using a web browser at http://localhost:8880 by default. The port and IP bindings can be changed in the configuration file.
You need an user with webadmin role to access the web administration. The user can be created when installing using (burusftp install or added later using ('burusftp user add' with --web-admin enable option.
See also