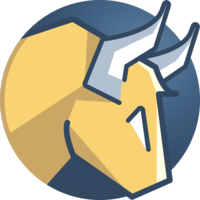 Rebex Buru
SFTP Server
for Windows
A reliable and secure SFTP and SSH server for Windows. Free for non-commercial use. Unlimited users. Unlimited connections. Virtual path mappings. Password and public key authentication. Web-based administration. Command line interface.
Free download
Online demo
Buy
Top features

Transfer files securely
Easily set up the SFTP on Desktop or Server Windows. Using standard SFTP protocol makes it easy to exchange files with machines running different operating systems such as Windows, Linux or macOS.
Stay safe: use modern encryption algorithms
Buru SFTP server supports all major moderm ciphers to make data transfer secure and reliable. Legacy algorithms supported as well.
Manage the server from anywhere
Use the web admin application to manage the Buru Server. Or connect via SSH and run Windows command line applications remotely.

Free for personal use
The server is completely free for personal, academy and other non-commercial use.
Rebex in numbers
10 000+
paying customers‍
160 000+
downloads of Rebex SFTP servers
15 years
of experience developing SFTP software
Join these companies and individuals who are already using Rebex software: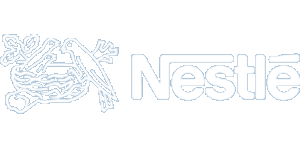 Main features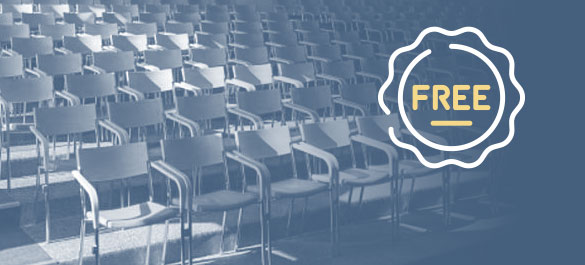 Free edition
Completely free for personal, academy and other non-commercial use.
SFTP server for Windows
Easily transfer files to Windows machines using any standard SFTP client. Impersonation is supported so the user acesses files under permissions defined in Windows.
SSH server for Windows
Connect to your Windows machine using standard SSH client. Execute remote commands. Use cmd.exe, PowerShell or any other shell.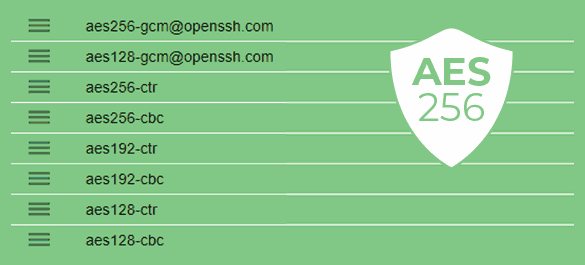 Modern and secure encryption
Supports all major modern security algorithms including RSA, ECDSA, Ed25519, ECDH, ChaCha20/Poly1305, AES/GCM, AES/CTR, SHA-2 and more.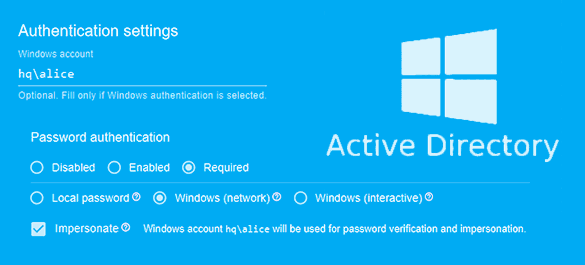 PRO
Active Directory integration
Use Windows credentials for user authentication. Both local accounts and AD accounts are supported. Users without Windows credentials are authenticated using internal database.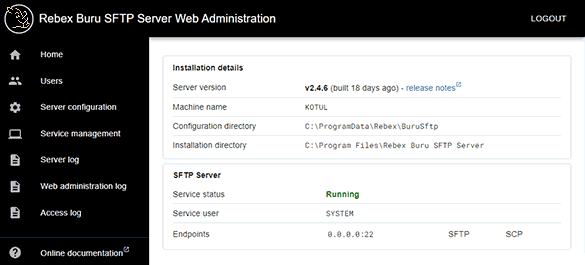 Web administration
Web Administration makes server configuration, user management or log viewing accessible from your browser. See demo.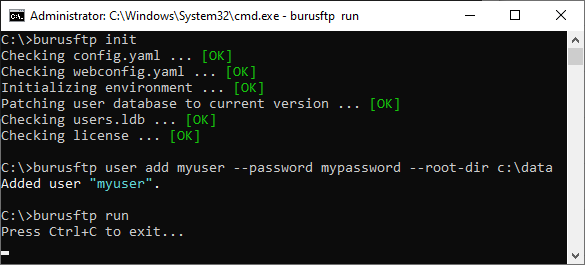 DevOps friendly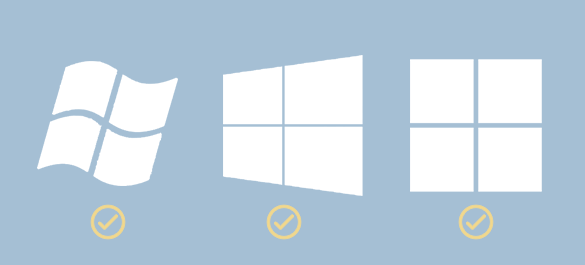 Runs on any modern Windows
Desktop: Windows 7 SP1, 8.1 Windows 10, Windows 11
Server: Windows Server 2012 R2, 2016, 2019, 2022
Architecture: x86 and x64
Security
Brute-force attack protection
Compare editions
→ Buru SFTP Server Professional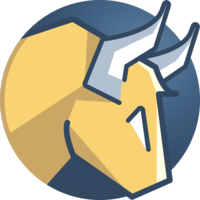 Tiny SFTP
Server
SFTP server
1 user
Free for all
Buru SFTP Server
Free
SFTP server
SSH server
Unlimited users
Non-commercial use
Buru SFTP Server
Professional
SFTP server
SSH server
Unlimited users
Commercial use
Windows Active Directory integration
Max virtual folders
Maximum number of top-level directories accessible via SFTP.
Max SFTP Users
Maximum number of users with access to the SFTP subsystem.
Public key authentication
Human-readable config files
Buru SFTP uses YAML format which is readable by both humans and machines.
Non-windows users
Users with credentials stored in the internal database.
Run as standalone application
Runs as a plain (non-service) application.
Brute-force attack protection
Windows users
Users with local Windows account on the servers.
Active Directory users
Users with Active Directory account.
SFTP user impersonation
Users access the filesystem under his Windows account credentials.
User reviews
reliable easy SFTP server
we are a 3 person IT department supporting 400+ people around the world. when we started data transfers with banking partners, we needed a secure means of transferring data. after evaluating several products based on internet reviews and suggestions, we settled on buru and were very happy with our choice. installation, operation, configuration, and upgrades are quick, easy, and painless. would HIGHLY recommend it.
Chuck M., Software architect
Very nice sftp server
It's basic and easy and does what it's suppose to do, well! It's by far the best, straight forward sftp server I've found. I like that this runs as a system service and I like being able to whitelist ip's.
Jason C, Software developer
15 minut setup
It works and you forget its running, The best kind of software.

Easy to use and setup. Highly recommend. Most features are in the admin panel which makes for an easy setup.
Anil S. CTO